Creating custom T-shirts can be fun and exciting, but before you get started, you need to know what the different methods are. There are a lot of different ways you can add your unique designs to a T-shirt, and picking the right one for your needs is an essential first step. You'll want to select a T-shirt printing method based on how complicated your design is and what you expect your output to look like.
1. Screen Printing
Screen printing is a popular method for professionals. Screen printing is known for creating quality designs that last for years and can be done either by hand or machine. This method requires a stencil for your design and a nylon mesh to hold the stencil. The screen is used to transfer designs to the T-shirt. Screen printing is great for large operations that need to quickly produce hundreds of shirts. The equipment can get expensive and the process is messy with a bit of a learning curve, so it's not recommended for those new to custom T-shirts or someone hoping to print at home.
2. Heat Transfer Paper
For this method, you print your design on special transfer paper and use a heat source like an iron or heat press to transfer it to your T-shirt. During this process, the heat softens the ink on the paper until it bleeds into the shirt underneath. You can print multiple colors on the paper, making it great for more complex, colorful designs. The process is easy and transfer paper tends to be affordable, so it's a great option for home operations. It can take a while to make large numbers of shirts, and you want to make sure you choose T-shirts that won't be damaged by heat.
3. Heat Transfer Vinyl
Heat transfer vinyl is very similar to transfer paper, but instead of printing your design, you cut it out from the vinyl before applying it with a heat source. The one big disadvantage to heat transfer vinyl is that you can only work with one color at a time. If you have a design involving multiple colors, you can layer the vinyl, but this takes a lot of time and work. On the other hand, vinyl comes in finishes and textures you can't achieve with transfer paper or screen printing. You can find shiny hologram vinyl, fuzzy flock vinyl, vent hole vinyl, and more. Heat transfer vinyl is great for smaller operations, especially if you are working with single-color designs.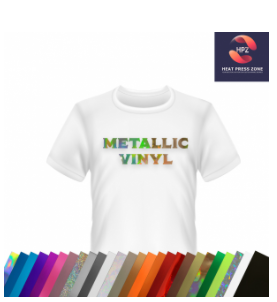 4. Dye Sublimation
Like screen printing, dye sublimation is popular amongst professionals. It's the preferred method for large, complex designs, but it requires a lot of knowledge about dyes and the process. Dye sublimation also only works well on light fabrics, and you need to use shirts made from polyester. You cannot use cotton with dye sublimation. This method also uses transfer paper, but instead of printing the design, you apply the dye to the paper before transferring it with a heat source. As it dries, it solidifies on the T-shirt. The end result is a long-lasting design that is soaked into the fabric instead of sitting on top of it. This method is complicated and best for large operations run by knowledgeable T-shirt designers.
T-Shirt Printing Supplies from Heat Press Zone
Heat Press Zone has been in business since 2000. We distribute and manufacture textile goods sourced from all over the world, so you know you're getting the best prices and quality possible. We carry a great selection of heat transfer vinyl, transfer paper, and other tools to help you make your designs come to life. We also carry a wide variety of wholesale T-shirts that offer the perfect canvas for your art. If you have any questions or need help selecting a product, please contact our team.